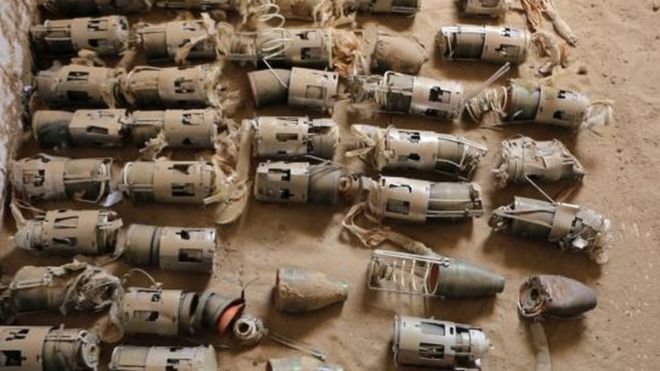 On Monday, December 19
th
, British Defense Secretary
Michael Fallon
told the House of Commons that following the UK's own analysis, the Saudi-led coalition has now admitted to using UK manufactured cluster munitions in Yemen. Following months of denial by the Brits and the Saudis, this admission responded to an earlier Amnesty International report documenting a cluster bomb found in a northern Yemeni province.
Cluster bombs contain hundreds of bomblets, which are meant to detonate on impact; failure to detonate has the effect of sowing a minefield. Cluster bombs, like landmines, can lie in the ground for decades and go off at the slightest provocation terrorizing the civilian population. As one jurist has noted, "Outside of nuclear weapons, biological weapons, or poison gas, it is hard to imagine a weapon more harmful to human beings than cluster bombs." In order to end their use a treaty was adopted in 2008.


The 2008 Convention on Cluster Munitions (CCM) entered into force in 2010. The CCM obliges every state party "never under any circumstances to": "(a) Use cluster munitions; (b) Develop, produce, otherwise acquire, stockpile, retain or transfer to anyone, directly or indirectly, cluster munitions; (c) Assist, encourage or induce anyone to engage in any activity prohibited to a State Party under this Convention." The United Kingdom, but not the US or Saudi Arabia, is a party to the CCM.


Saudi Arabia, in its defense, noted that: "Neither the Kingdom of Saudi Arabia nor its Coalition partners are State Parties to the 2008 Convention, and accordingly, the Coalition's use of cluster munitions does not violate the obligations of these States under international law." All the same, the Saudis noted, they would cease using these specifically UK manufactured cluster bombs.