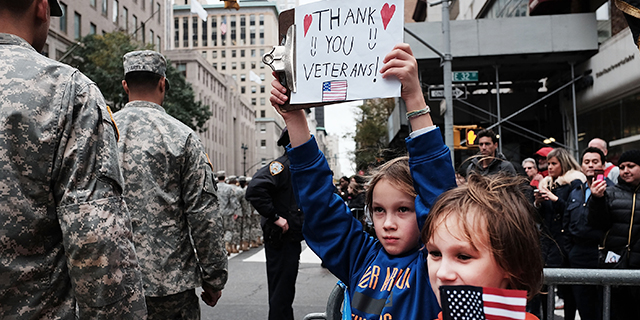 The 19.5 million veterans represent just 7.5% of the US adult population, down from 18% in 1980. The Veterans Department projects that there will be 40% fewer veterans by 2045. There are now more Gulf War-era veterans than Vietnam-era veterans as the latter are beginning to die off. As of 2016 data, there were 6.8 million Vietnam War-era veterans and 7.1 million Gulf War-era veterans.
There were also approximately 700,000 WWII veterans and 1.6 million Korean conflict veterans. Over the past 50 years the number of people on active duty has dropped from 3.5 million in 1968, during the draft era, to 1.3 million (less than 1% of the US adults) in today's volunteer military. The military draft ended in 1973.
Currently 91% of veterans are men while 9% are women. By 2045, the Department of Veteran Affairs expects the share of female veterans to double to 18% (from 1.9 million to 2.2 million). Male veterans are projected to drop by almost half from 18.5 million in 2016 to 9.8 million in 2045.
Fewer members of Congress have prior military experience than in the past. As the share of Americans who are veterans has declined, so has the share of Congress members who have previously served in the military. In the current Congress, the number of veterans elected to Congress in 2018 has dropped to under 100, the lowest level since before World War II.