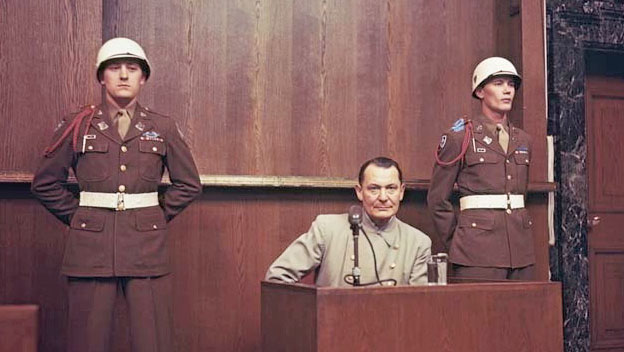 Sentencing proceeds
If memory is correct, today 20 November is the anniversary of the major Nuremberg trials commencing.
There are quite a few sources and sites on The Internets that provide a wealth of data on the social and legal history of these trials. A short review may be found at the U.S. State Department website, also with reference to the Tokyo War Crimes trials.
The history channel tells us that:
There were many legal and procedural difficulties to overcome in setting up the Nuremberg trials. First, there was no precedent for an international trial of war criminals. There were earlier instances of prosecution for war crimes, such as the execution of Confederate army officer Henry Wirz (1823-65) for his maltreatment of Union prisoners of war during the

American Civil War

(1861-65); and the courts-martial held by Turkey in 1919-20 to punish those responsible for the Armenian genocide of 1915-16. However, these were trials conducted according to the laws of a single nation rather than, as in the case of the Nuremberg trials, a group of four powers (France, Britain, the Soviet Union and the U.S.) with different legal traditions and practices.
The Allies eventually established the laws and procedures for the Nuremberg trials with the London Charter of the International Military Tribunal (IMT), issued on August 8, 1945.
The University of Missouri--Kansas City has an interesting collection, as do others. More lawyerly information can be found at the U.S. Library of Congress site.